Kitimat Lodge Guest Testimonials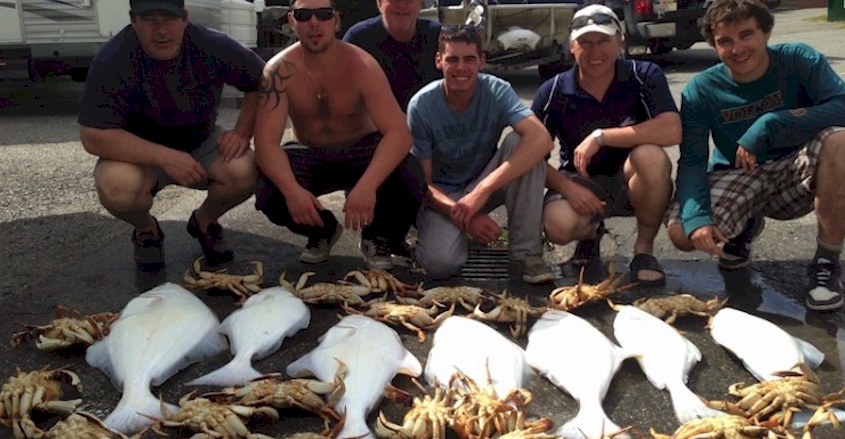 Kitimat Lodge
TESTOMONIALS
Find out what our guests from around the world have to say about their guided fishing adventures with Kitimat Lodge and Kitimat Adventures. Our guests were absolutely thrilled with their days of fishing and evenings of relaxation and talk of the days excitement.
Click to Book or Ask for More Information
Kitimat Adventures Guided Saltwater Fishing is an Experience of a Lifetime

Scroll through the comments and thoughts of our guests; often they take a moment to contact Kitimat Lodge after their Guided Fishing Experience to let us know what kind of impact the trip had on them. We're incredibly proud to have been part of the memories shown below and hope to see everyone again. Guided Fishing, fabulous lodging memorable cooking and memories of a lifetime are what these testimonials asll share in common.

Feel free to send us your story if you'd like to see it here or in our blog!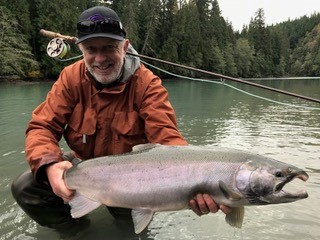 Early on in my now 25 year fly fishing career I went on a lot of expensively disappointing fishing trips. Then in 2006 I discovered Tracey and his Steelhead Heaven outfit in beautiful British Columbia and have been going back ever since. The main rivers he fishes, the Kitimat, the majestic Skeena, and the Kalum are beautiful and abundant. Tracey and his guides are knowledgeable and well equipped and I advise you to listen to what they tell you (although many guests don't). You can fish single or double hand but there's no double that a Switch or Spey rod is more effective and energy efficient. Tracey's mission is to get you into the best fishing runs - then it's up to you! I also recommend staying at the Kitimat Lodge where there's often same day caught crab on the menu.
CU in 2019!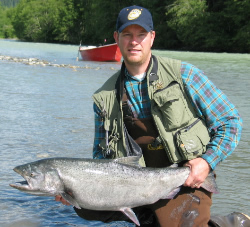 "HOT" best describes our trip to Steelhead Heaven. We caught a fair number of rod-jerking salmon and the weather was more like Mexico than Canada. We spent four days on the river in all with Tracey Hittel and had a blast. All of the staff had incredible and humorous personalities; surely among the best in Terrace if not BC. Tracey clearly knew the rivers well, and Harley and Mickey (the lodge hosts) have been well versed in delicious home cooked meals and spending quality story telling time with the guests. The accommodations were excellent and spacious composed of two bedrooms and a large combined kitchen, dining and living room (far superior to hotel room stays). The fishing/lodging/food were perfectly catered and allowed us to fish early and stay late (this might explain the wicked sunburn….). The only negative was having to go home! I'm looking forward to my next trip.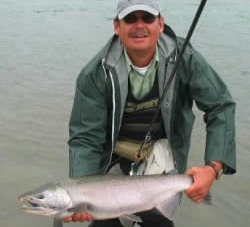 BEST DAY OF MY LIFE; to mention the truth, I have never paid anybody to take me fishing in my life, except to help with gas and food. yet if I had fished the first day he offered me I would have given him a deposit on the river for the second day without a thought. To anybody that has read this, I hope it puts a different prospective on life for the fisherman that is learning to fish and to the fisherman that has a back ground like mine, the value of a good guide in an area you want to fish is extremely important if you want to have a day you will never forget. I hope a few people will learn a lesson from my mistake. I have never fished with someone so open to knowledge that is shared for you to learn. As for the fishing trip Tracey helped me fill a complete roll of film on my digital camcorder to watch at home, and took pictures on his digital camera, burnt them on a CD to show and use. As I watch my video, I will be planning the trip back as now I have something to work hard for to have the pleasure to fish with Tracey Hittel.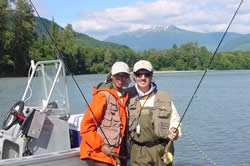 Our first day was a slow day but Tracey assured us the action would be hot and heavy on the Kitimat fishing for pinks and chums the next day. We went out with a guide friend of his Mark Guiliano. After about 15 minutes into our drift Angela had hooked and landed three nice pinks. I was hooking fish but was having trouble landing them. Angela suggested I was "horsing" the fish and maybe I should slow down my retrieve. I guess that was my problem because after that we caught and landed over one hundred pinks. Also, seven chums in the 20-25 pound range. That night Tracey invited us to his home for a wonderful seafood and steak dinner. Next morning, Tracey picked us up for another day upper Kitimat. We drifted a beautiful stretch of river and saw numerous bald eagles and had an encounter with a grizzly trying to bring down a bull moose. We caught several more salmon including a number of doubles. The morning after we left with memories of one of the best fishing trips we have ever taken!
Tim & Angela Foster, Memphis, TN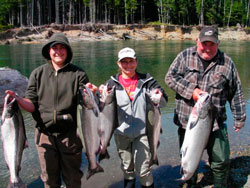 It's hard to believe how quickly time passes when you are enjoying the quality time spent at the lodge. We had great guides that made this year even better than the last. It didn't matter how many drifts or jet trips you took, it left you wanting just one more. To maybe catch that one that got away the last time. Thank you for the peace and solitude that he gave to this day. We believe you have a great staff. Campfire was fun as always because of the stories shared.  The whole time we were there all we wanted was a good view of her and her cubs. That picture of Barkley chasing his dog toward the bear is forever etched in our mind. We love the feel of your lodge and that is why we choose to stay there rather that anywhere else. We also don't fit the cookie cutter shape of the average American family. We work hard and there for play hard. We like to have fun and are not afraid to to admit it. We are now ready for salmon and stergeon fishing here since most of the chores at home have been caught up.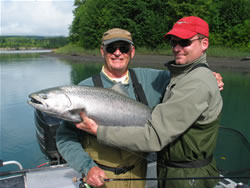 If you are looking for a real Canadian salmon fishing experience and a serious chance to land a steelhead and five species of salmon on the fly in one week, you need look no further than Steelhead Heaven at Kitimat Lodge in British Columbia. During a recent guided fishing trip with my father in July, we were treated exceedingly well in what we described as "Chinook Heaven" and boy was it ever heaven. Good river fishing is dependent on many factors; weather and the resultant water conditions probably being the most important. Having four rivers within an hour drive of the lodge afforded us the ultimate flexibility each morning of being able to decide which river we would fish. In my opinion, the guide will either make or break your trip. You will be very hard pressed to find a more dedicated and professional guide than Tracey. This was easily the best value for money fishing trip I have had the pleasure to take.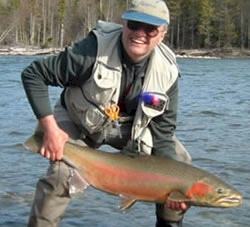 Arrived at the lodge overlooking the Kalum last week of September; barely 3 months after major surgery and eager to try my luck. First drift with Ted, fished a blank all day, until we came to the last pool and "WHAM" everything went tight, in the neck of the pool, in the main current a leviathan had taken hold and for the next 20 min. It was touch and go who would be victorious. In the net it weighed 21.5lb, MAGNIFICENT and a great start to the week. Every day produced fish of outstanding quality, but what makes a trip like this work is the knowledge, expertise and dedication Tracey and Co. are willing to share with the guests at the lodge. They put you in the right spots with unnerving regularity and it's up to you to make the most of this information and more often than not your into a screamer. As for the hospitality at the lodge, it makes for a fantastic trip to one of the most picturesque and unspoilt locations on the planet. Many thanks for making these trips memorable.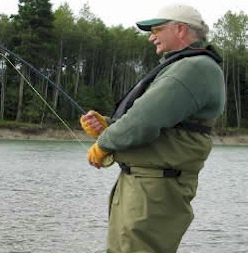 My brother (Roger) and I have done a lot of fly fishing for trout mostly in lakes within central BC and southern BC. This trip was Roger's first experience fishing for salmon using a fly rod. Our Steelhead Heaven guide really advanced our skill level in learning how to take salmon on the fly rod. To break the ice, we concentrated our fly fishing on pinks and our guide put us into several excellent runs and lots of action. The chum immediately caught the fast water and within seconds Roger was into the backing as he played this fish. Barkley suggested to move downstream with the fish and work him into the quieter water. Roger worked the large chum for some distance down river on the gravel bar. I told him that when he gets to Kitimat he can get the truck and trailer for us. Well he didn't get that far before landing a beautiful approx 18 to 20 lb chum which we held for a few pictures and then released back into the Kitimat River. Overall, we had a great trip and look forward to future fishing charter.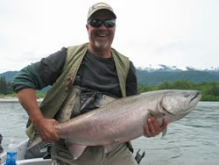 I am taking this opportunity to thank you for the excellent fishing experience this year on the Kitimat River. The action was steady, the fish were sparkling silver, and the river was mesmerizing and magical as always. I especially appreciated your kindness and hospitality both on the river and after hours at your home with your family. The black bear's visit to your neighbour's back yard while we were cleaning the day's catch of salmon and crab added new meaning to this year's adventure and experience. It's a real pleasure to be around people like you that have a passion for what they do in life. It may seem to those on the outside that you live the perfect life fishing almost every day in a pristine wilderness environment. The truth is that you work very hard to supply, operate and maintain quality equipment and gear. I'm sure each of your fishermen feels comfortable, special and unique because of their time spent in your company. I certainly know that is true for me. 
Canadian Engineered Products & Sales Ltd